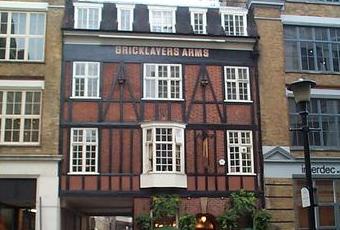 In BC I would rarely ever meet somebody, coworkers or friends, after work for just drinks. If I was meeting people after work it would be for an occasion and there would be food involved. I don't think I am an atypical person in this regard and I have two explanations. First, I (and most people) would almost always be driving somewhere, which makes meeting up for drinks downright irresponsible. Second, Vancouver, and especially its suburbs, does not have the same after work pub culture that London and the rest of the UK has.
Ever since we've been here I've noticed that any pub worth visting is jammed from 5pm on weekdays and overflowing onto the streets on Fridays. It's fairly typical for Londoners to meet with coworkers or friends after work more evenings than not, like three out of five weekdays, every week, forever. I was impressed at this because I really enjoy after work drinks. With us moving to a new city and starting new jobs, it's been good for our social integration. I have also been surprised at how after work drinks are frequently carried out. While it's common to just have a pint and then be on your way, it's almost equally common to have one, then two, then three, then a lot of pints, completely lose track of time, realize you haven't eaten, and get carried away late into the evening. Seriously, some people just won't eat. As a hungry person, this offends me. Weekday benders are common enough that showing up for work extremely late is easily forgiven and when I was recently actually sick most people just assumed I'd had a rough night.
I'm not passing judgement here, just remarking on an interesting cultural difference, one which I mostly enjoy (hangovers…). When I joined my colleagues had already selected their favorite pubs and I must say I quite enjoy their choices. The Bricklayer's Arms is a Sam Smith's pub that charges just over £2 for a pint. You can't find any beer in London that cheap, much less tasty Sam Smith's beer. The Toucan is a Guinness pub in Soho that my Irish boss loves. They do serve a proper Guinness, and you can't argue with the people watching. Fun fact, Jimi Hendrix played his first London gig at The Toucan.
Cheers,
Chris